Stuart Sander's Sterling Bloodstock offers the very finest in horse opportunities for even the most discriminating buyer here or overseas. We offer beautiful foals of impeccable breeding and quality, yearling and two year old show quality fillies and colts with international appeal, stallion prospects and superb broodmares that have extreme profit potential.
There are always new arrivals that have not yet been included on the sale page so don't hesitate to write or call for the most recent additions to our superb collection.
New to the horse business and uncertain about things? We can advise, shepard and mentor you through the complexities of the horse business and will provide support every step of the way. We love beginners! Our advice and guidance is always free.
Foreign buyers are most welcome -- export cheerfully handled. US management available if preferred.
---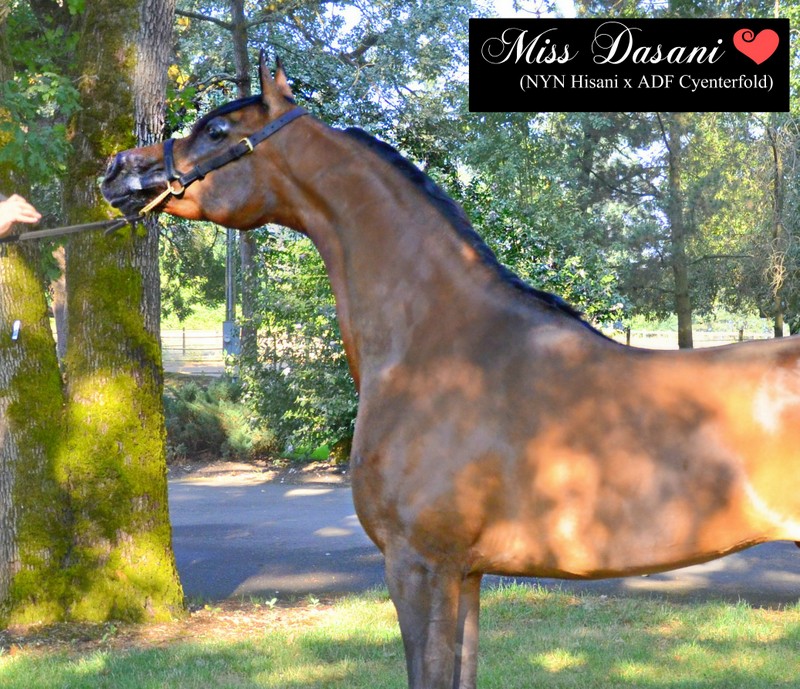 Miss Dasani
(NYN Hisani x ADF Cyenterfold)
Already a Scottsdale Reserve Champion AND a Regional Champion, she is ready to be an incredible breeding mare or go back in the show ring! Her sire is the Marwan/Versace bred NYN Hisani, her dam's sire is black and is the sire of RH Trianna's sire. This mare could be a black producer!
---
JH Psytanaina
(Psytanium x Sinizanna)
Gorgeous 2007 mare, super gentle and broke to ride, in foal to ViVegas for a 2019 foal. Her sire is the incredible Psytainium, her dam a *Bask granddaughter.
---
Dolce Da Vinci
(Da Vinci FM x Claudiaa)
Incredible daughter of the great Da Vinci FM out of World Champion Most Beautiful Head and Belgian National Champion Claudiaa. She's already a producer of an exotic faced colt, already sold, and is a great mom. She's show quality, just 4 years old and is tall and elegant.
---
Majikal
(Majik of Marwan x PS Echos Jewel)
She's beautiful and it's not just us saying that! She's a Scottsdale Top Ten, a Regional Champion and a Reserve Regional Champion. In addition her filly sold for more than 3 times her asking price AND she's started under saddle! She's a 2010 mare, a great mom and super-fertile.
---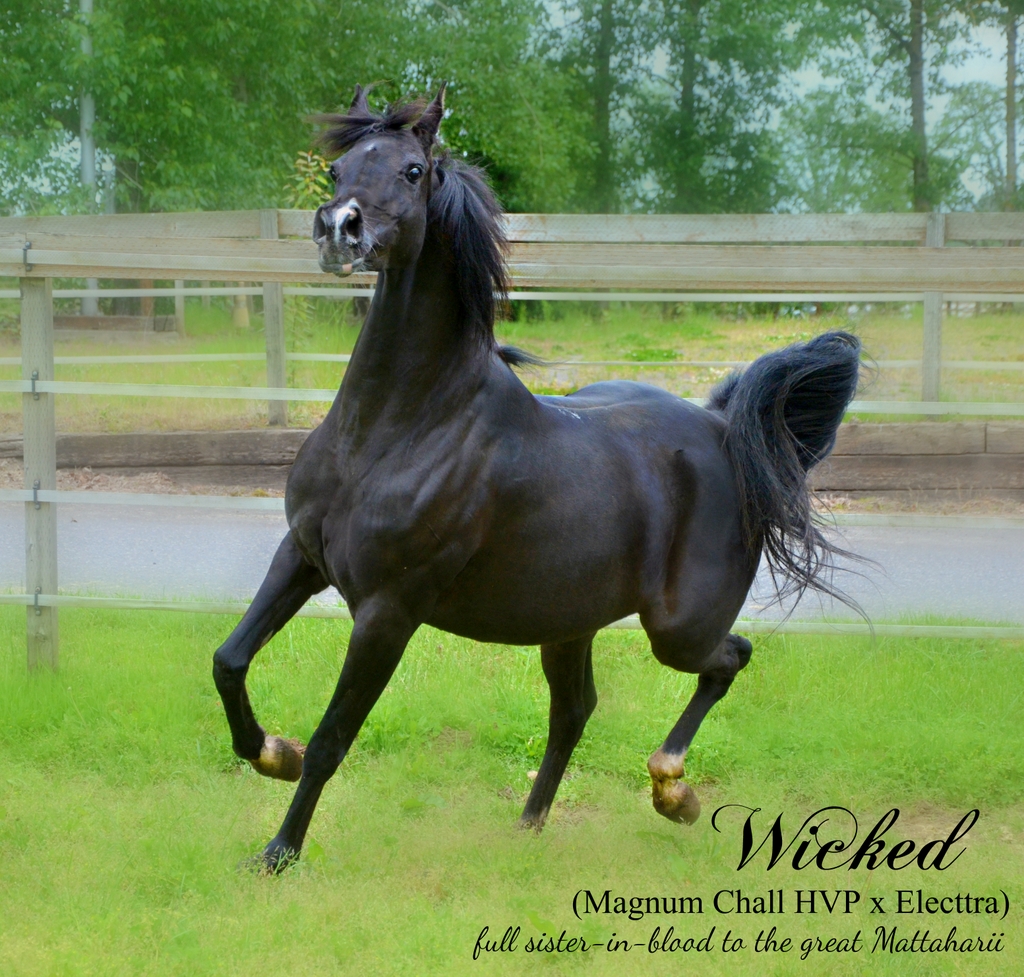 Wicked
(Magnum Chall HVP x Electtra)
It would be enough that Wicked is a full sister-in-blood to the dam of World Cup Champion, Dubai Gold Champion and US National Champion Mozn Albidayer, one of the most famous and decorated fillies of our time, to make her a treasure of the industry. The fact that she's black makes her even more precious. She is checked in foal to the stallion with the bloodlines coveted by Sheikhs and Princes and producer of exotic faces, the Vervaldee son ViVegas, for a 2019 foal.
---
Dominattrix
(PS Echo Domani x Vonnessa)
Dominattrix is a snort and blow machine! She's a 2016 filly, is tall and elegant and stops traffic in the barn where ever she goes. Her sire is the World Cup Reserve Champion Ajman Moniscione (WH Justice) son PS Echo Domani, her dam is a Bey Shah granddaughter. Superb show and breeding quality. She's a wild child (although easy to handle) and takes our breath away!
---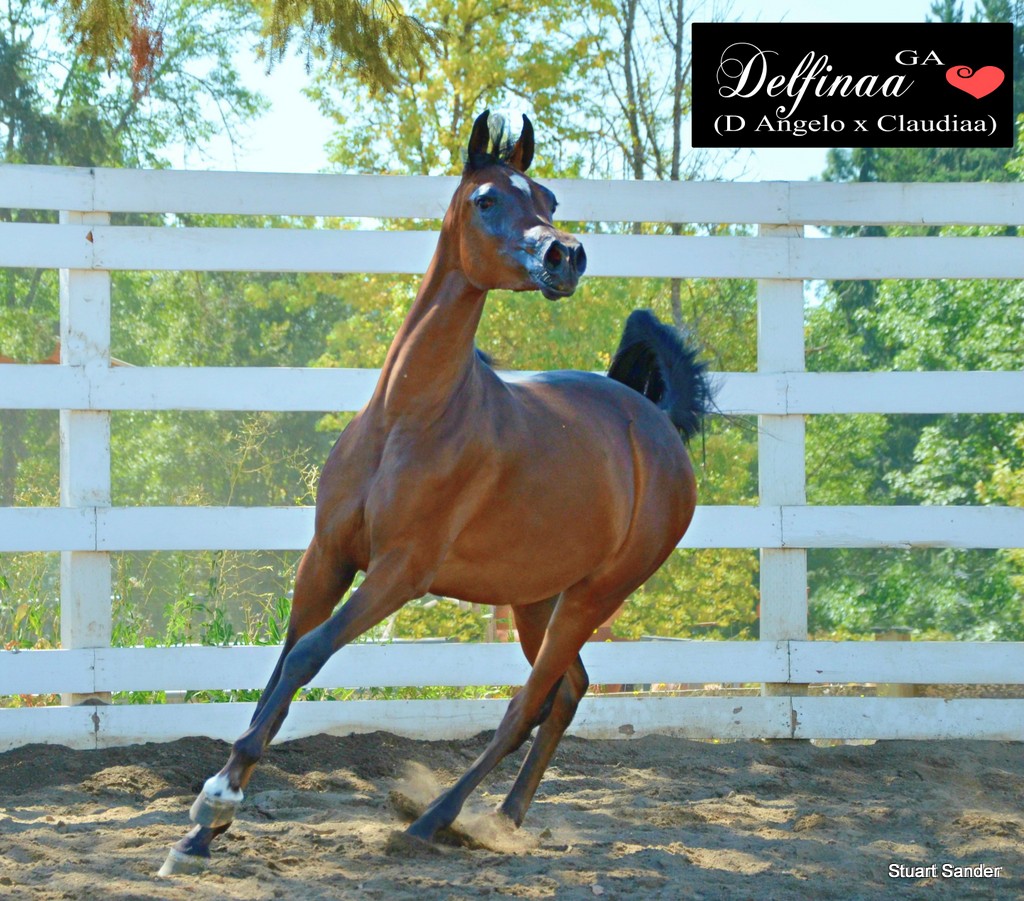 Delfinaa GA
(D Angelo x Claudiaa)
Sired by the incredible Qatari stallion D Angelo and out of World Champion Most Beautiful Head and Belgian National Champion Claudiaa, this yearling filly is as exotic as they come. She is Scottsdale caliber and will produce beautiful faces!
---
Rejoice DSW
(PCF Vision x April In Parys)
Stunning Rejoice is already a Scottsdale Top Ten! Her sire is the Reserve National and Reserve World Cup Champion PCF Vision. Her dam is a Parys El Jamaal daughter. She sells with a breeding to Truest!
---
Tru La La
(Trussardi x Vinnessa)
Stunning 2013 Trussardi filly, top show quality, out of beautiful Shah Azim (Bey Shah) daughter
For Additional Photos Click Here
---
Giovannis Angel
(MPA Giovanni x ALA Modina)
Lovely 3 year old, sired by US National and Scottsdale Champion MPA Giovanni that is out of an Enzo daughter.
She's 15.1 and ready to show or breed.
For Additional Photos Click Here
---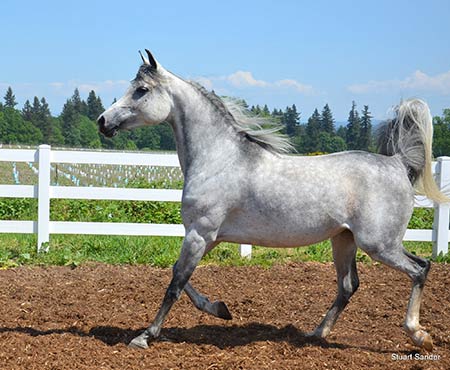 RHR Abeera
(RHR Safar x Bint Knazeera)
This beautiful show mare is Straight Egyptian! She's elegant and has a wonderful disposition and will be a great halter mare.
For Additional Photos Click Here
---

HA Uzes
(Chancellor MW x Poetic Psyche)
This young stallion's breeding is amazing. He's a full brother to Scottsdale Champion HA Lady Freya, one of the most beautiful fillies in the industry, sired by Chancellor MW who is by Enzo and out of Star Chance SA. His mother is a beautiful Padrons Psyche daughter. He will make a spectacular breeding stallion! He is blemished from an injury as a youngster which makes this a special opportunity to have world class bloodlines at an amazing price!
---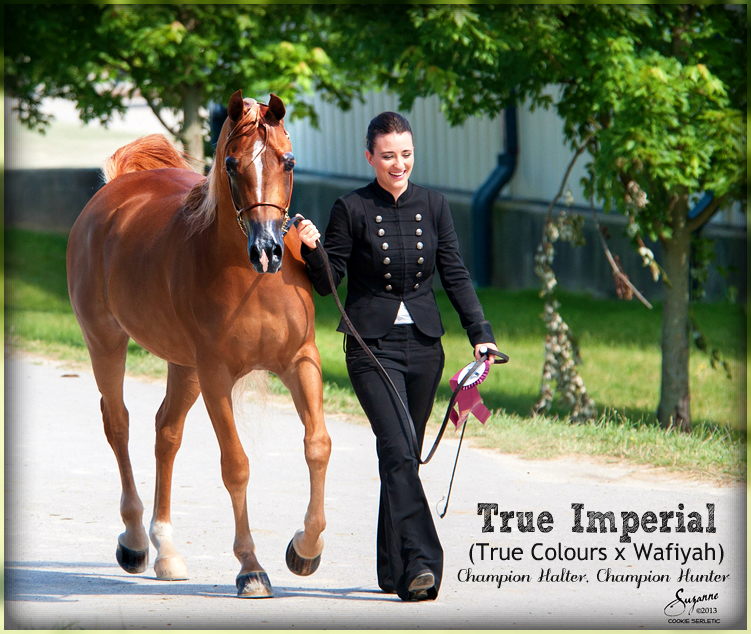 True Imperial
(True Colours x Wafiyah)
Imperial is looking for his new best friend! He's been Champion in both halter and performance at some of the biggest shows in the industry. He's well seasoned for a youth or amatuer rider and is just looking for the opportunity to bring a lifetime of happiness to a lucky horse lover!
---

QF Al Diyah
(MW Definitive x HU Karia)
Al Diyah's exquisite bloodlines bring the best of American/Egyptian breeding! His sire is a full brother to International Gold and Silver Champion MW Ascher, and he has lines to the great Samara SQR and Junior World Champion Divine Tranquility. In addition to his superb conformation he demonstrates a kind and trainable personality!
---

2014 Colt
(Versace x MPA Sicily)
This exotic colt is not only exquisitely beautiful, he has a stallion's pedigree! By the immortal Versace out of a full sister to Scottsdale and US National Champion, MPA Giovanni.
For Additional Photos Click Here
---

SS Prince Tru Magnum
(Trussardi x Maggie Psyche)
This stunning colt's sire is National Champion, his dam is a full sister-in-blood to the world's most famous Arabian stallion. He is exquisite in every way.
For Additional Photos Click Here
---

SS Truyst
(Trussardi x Lady Giovanni)
2013 colt by National Champion Trussardi out of a daughter of Scottsdale and US National Champion MPA Giovanni
For Additional Photos Click Here
---

ES Tru Colors
(Trussardi x OA Shooting Star)
Sired by Trussardi, the new National Champion and highest scoring horse in the history of the Nationals and out of a triple El Shaklan mare, this colt is exquisite. He will compete and win in any level of competition, anywhere in the world.
For Additional Photos Click Here
---

ACA Maxximus
(Echclusive x RA Kulani by Khadraj NA)
For Additional Photos Click Here
---
---

MPA Sicily
(Da Vinci x Glitzy)
Full sister to National and Scottsdale Champion MPA Giovanni, this lovely mare is exotic faced and very tall, just like her brother.
Embryos Avaliable
Click here for a video
For Additional Photos Click Here
---